Criminal Justice Process
Colorado's criminal justice system is a collaboration between many actors. The DA's Office prosecutes cases, provides assistance to witnesses and victims of crime, and oversees alternative programming such as diversion and restorative justice.
This Flowchart shows how cases "flow" through the criminal justice system in Colorado.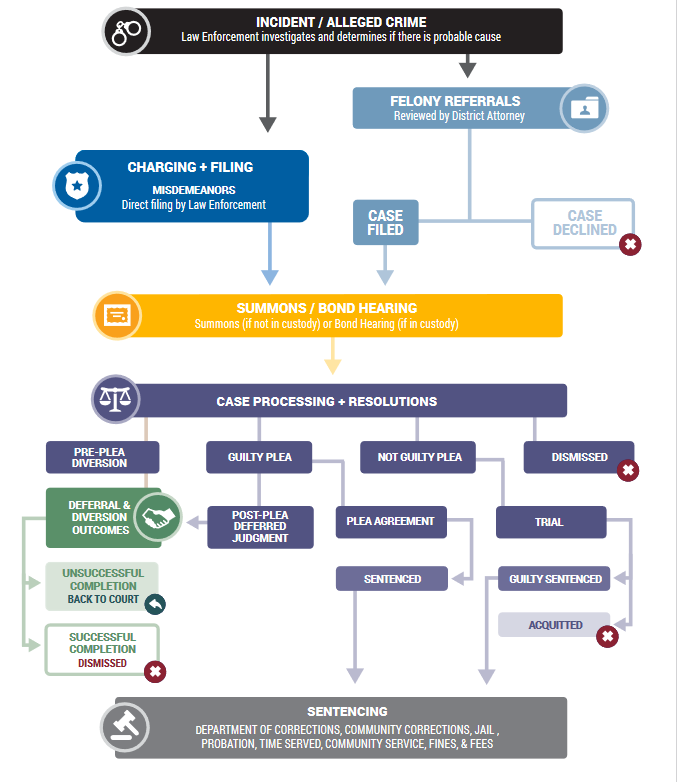 When there is an incident or alleged crime, law enforcement investigates and determines if a person committed a crime. Incidents involving misdemeanor charges or petty offenses/infractions are directly filed by law enforcement. Incidents involving felony charges are referred to the DA's Office, which decides whether to file or decline the case. 
If there is no arrest, the individual receives a summons, which is a request to appear in court on a certain date. If there is an arrest, the bond amount and bond requirements are decided at the bond hearing. Although the prosecutor and defense attorney can provide recommendations, bond is set by a judicial officer.
There are five primary ways a case can be resolved: (1) the case can be dismissed, (2) the individual can be referred to a diversion program, (3) the individual can plead guilty and enter in to a plea agreement, (4) the individual can plead guilty and receive a deferred judgment, or (5) the individual can plead not guilty and go to trial (where they are either found guilty or acquitted).
If the individual successfully completes a diversion program or a deferred judgment, the case is dismissed. If the individual does not successfully complete either program, the case returns to court. 
If the individual pleads guilty or is found guilty at trial they are sentenced.
What does the DA's Office do?
Submits and/or reviews requests to the court to issue warrants for arrest. 
Makes recommendations for bond amount and stipulations.
Screens and decides whether to file felony cases referred from law enforcement with the courts.
Conducts outreach and provides resources to victims of crime.
Screens defendants for diversion or other alternatives to prosecution.
Investigates cases for additional evidence or victim participation.
Prepares and litigates cases at pre-trial motions, hearings, and trials.
Evaluates charges, and amends as appropriate.
Extends plea offers as warranted.
Makes sentencing recommendations.
Collaborates with other government agencies and the public to develop programs to address the safety and well-being of the community.
What does the DA's Office not do?
Arrest individuals. Law enforcement arrests and refers individuals when there is probable cause of offense.
Set bond. The judicial officer makes the decision on the amount and the conditions of bond.
Impose sentences. The judge imposes a sentence following conviction.